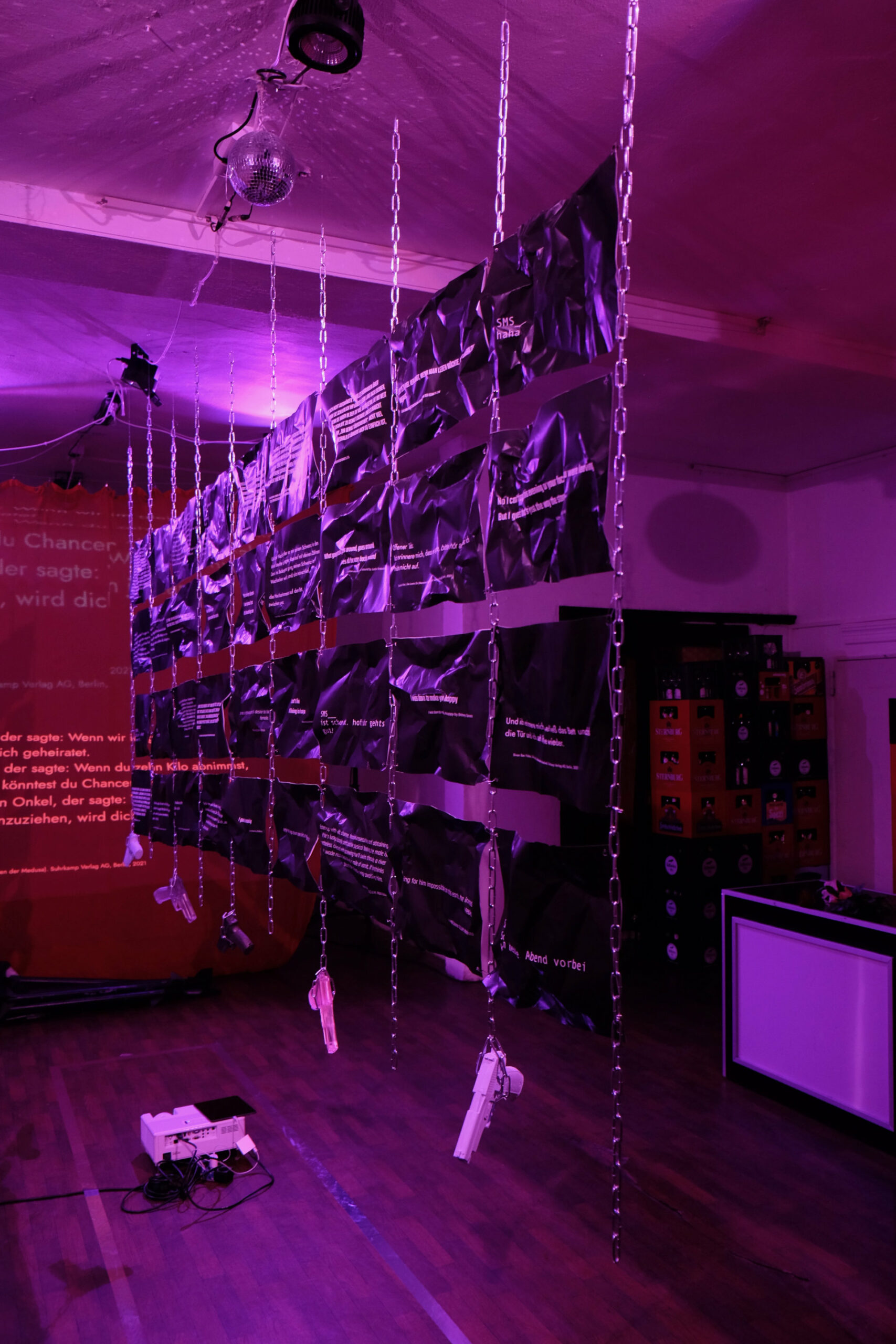 AllYouNeedAmelie6
ALL YOU NEED FOR ART
IS A GIRL AND A GUN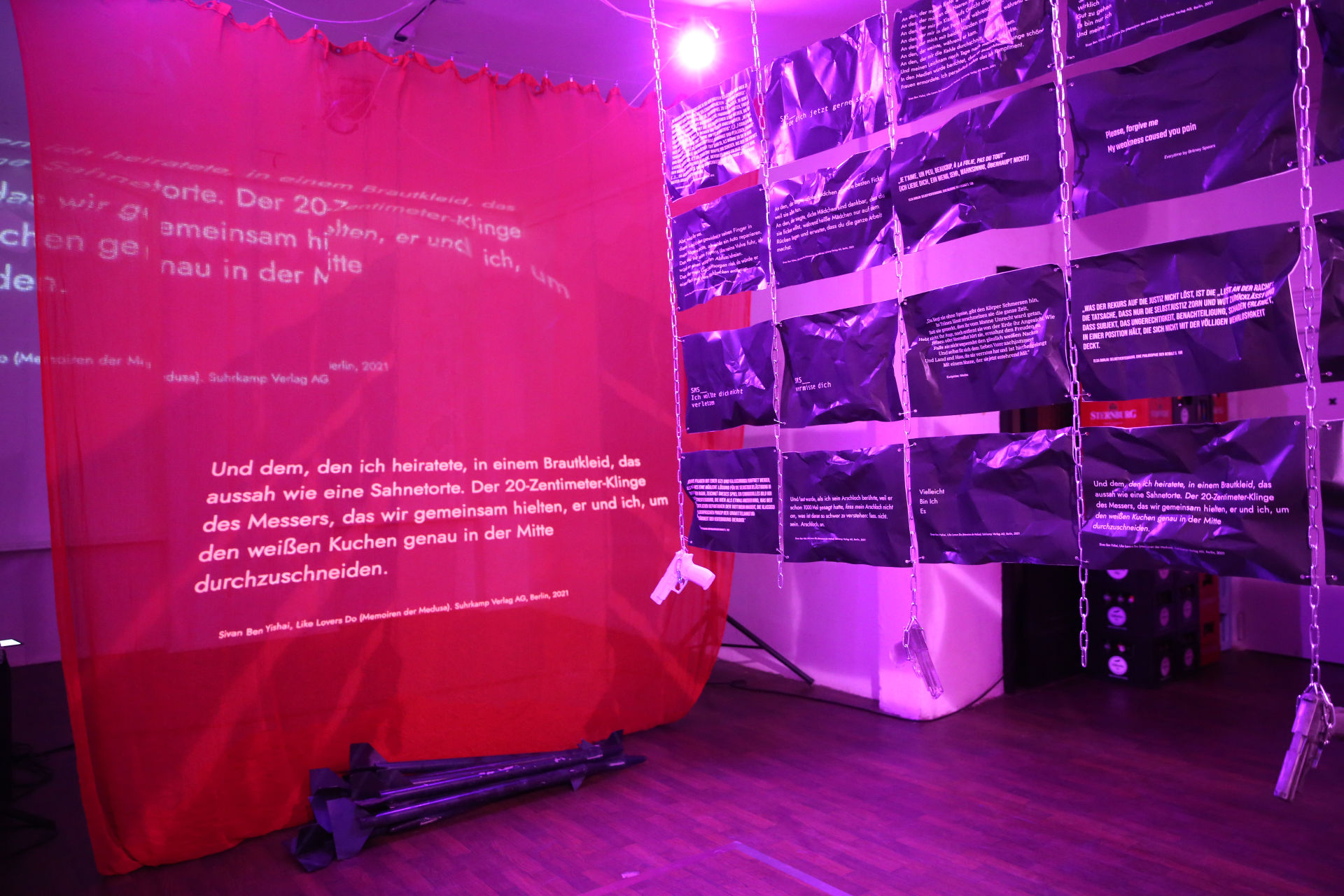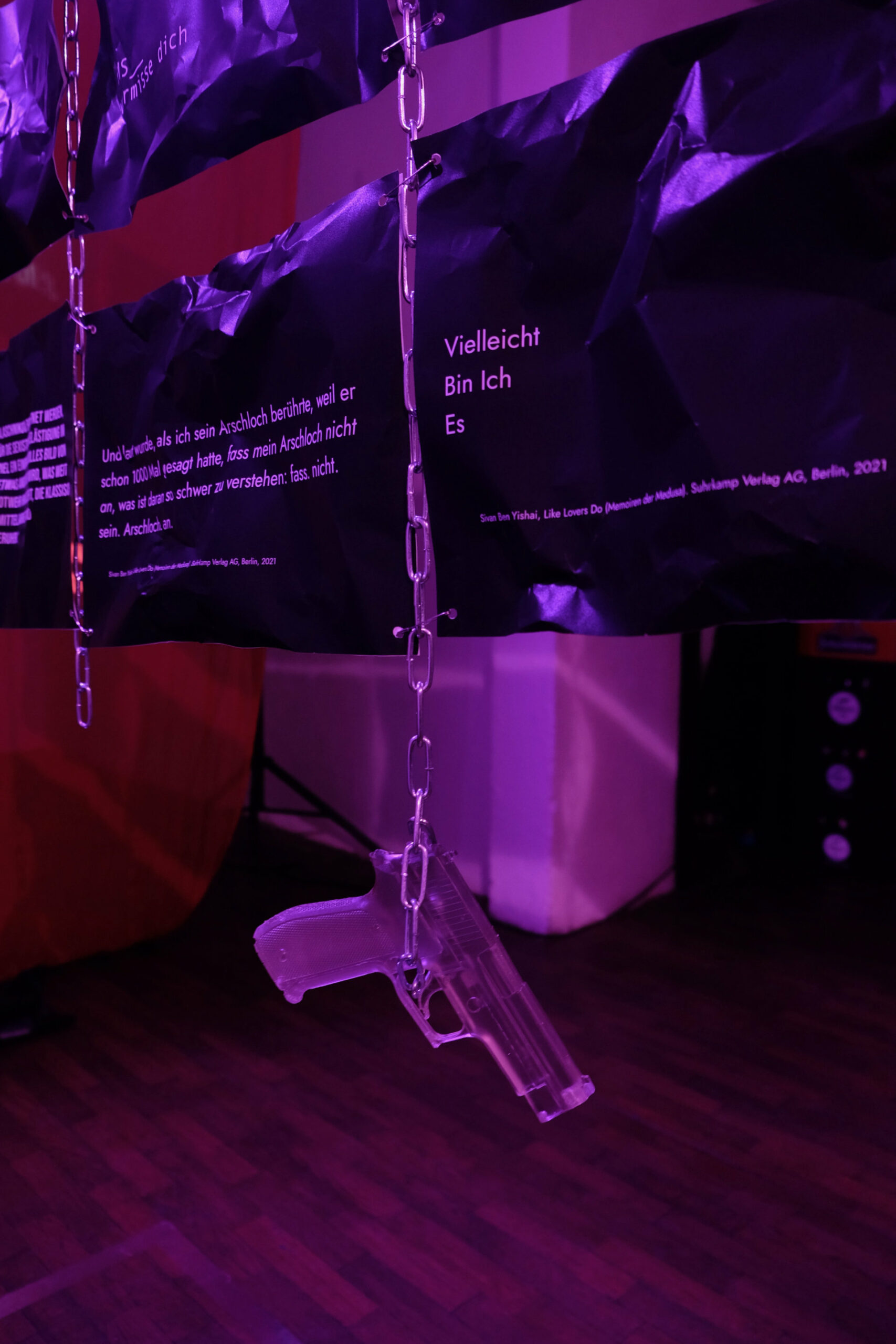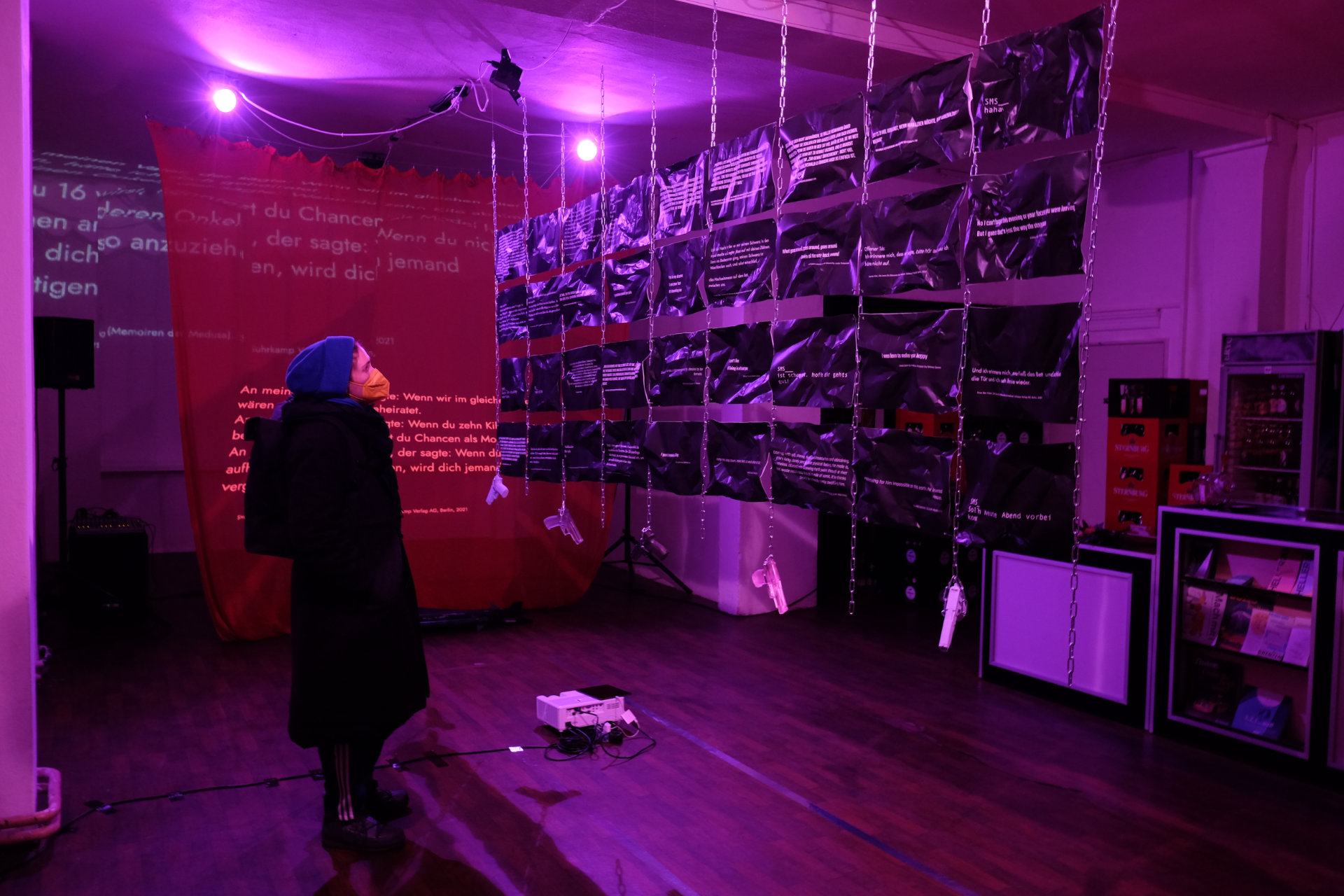 ALL YOU NEED FOR ART IS A GIRL AND A GUN
installation, sound, video, objects, mixed media
Hole Of Fame e.V. Dresden,
january 2022
BLUT UND SPUCKE
SPUCKE UND BLUT
Medusa. Raped by Poseidon. Punished by Athena. All who look at her are turned to stone.
Lucretia sacrificed to virtue. victim blaming. sex sells.
Virginity and "victim", construction of "male" perpetration.
Lust and pleasure between self-determined sexuality and transgression.
Reproduction of sexualised violence in everyday life. In neighbouring flats, on the street at the corner. Concealed. Never thematised.
The exhibition BLUT UND SPUCKE UND SPUCKE UND BLUT was realised as a parallel event along with a performance BRAUTSCHAU by Lisa Rüger at the Büro für gute Maßnahmen Dresden, which revolved around the construct of virginity and sexualised violence in cultural history.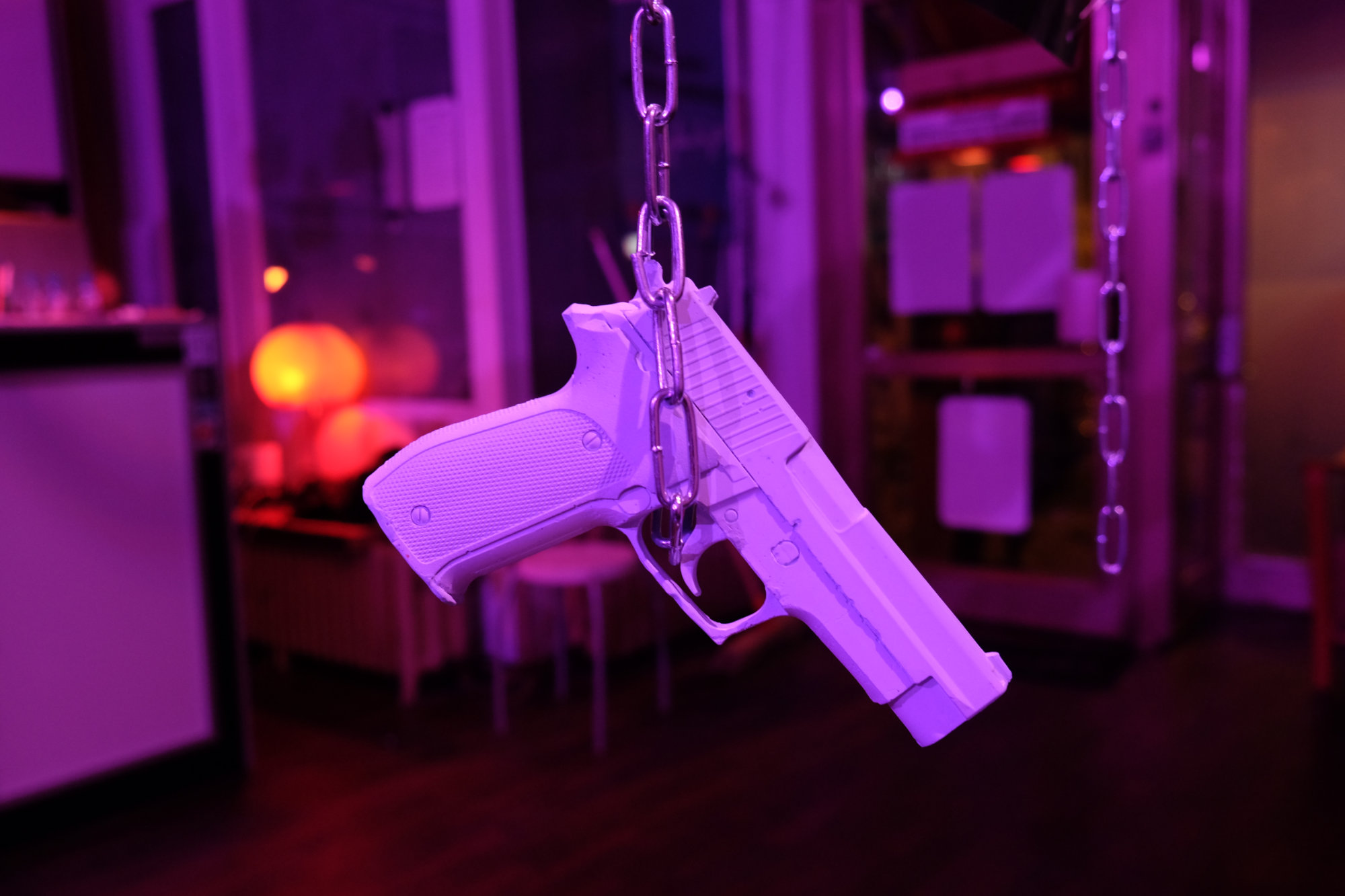 ALL YOU NEED FOR ART IS A GIRL AND A GUN
installation, sound, video, objects, mixed media,
Hole Of Fame Dresden e.V., january 2022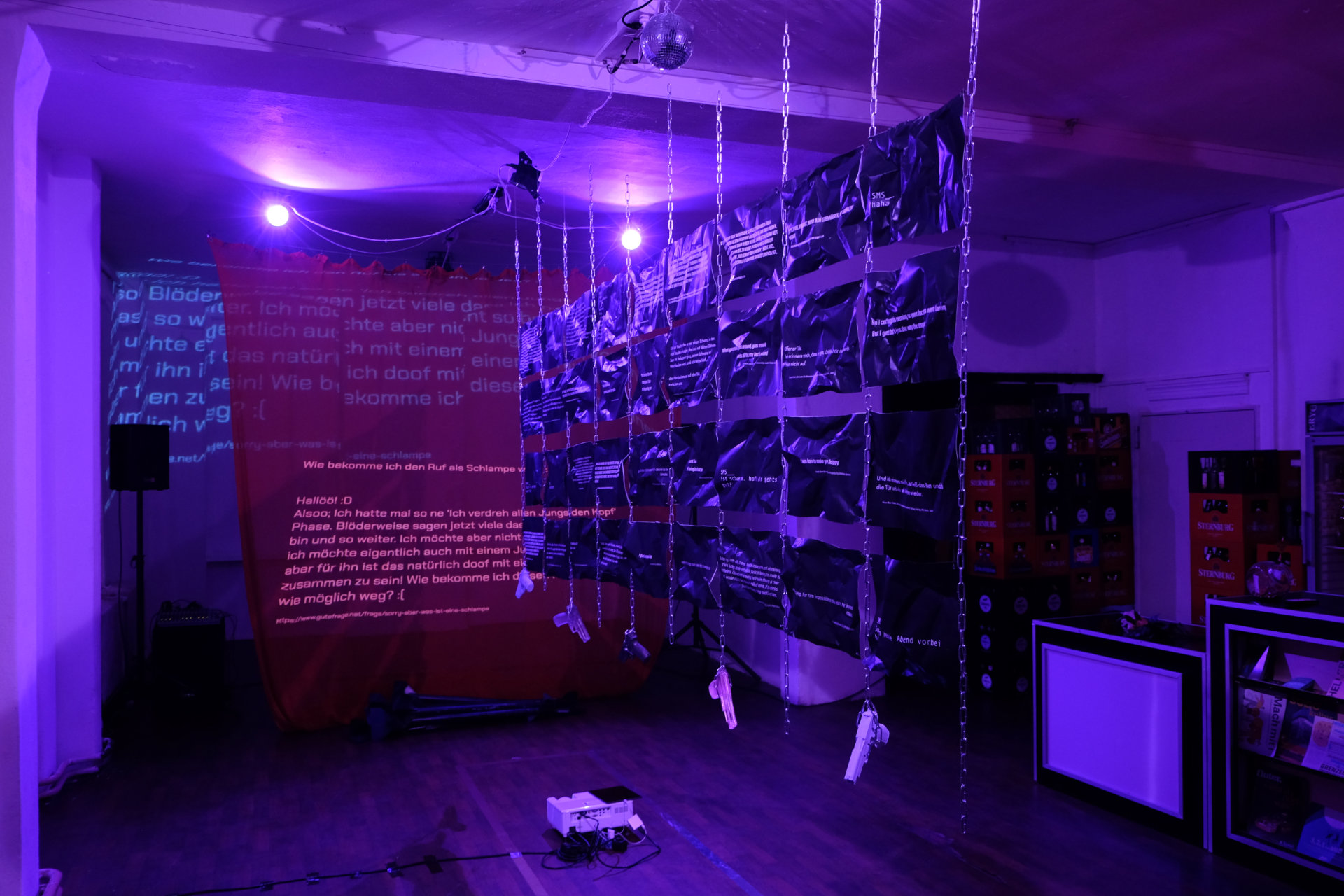 ALL YOU NEED FOR ART IS A GIRL AND A GUN


ALL YOU NEED FOR ART IS A GIRL AND A GUN is based on a text collage that combines quotations from the theatre text "LIKE LOVERS DO (Memoirs of Medusa)" with excerpts from various non-fiction texts, (pop) songs and private text messages by the artist. Visitors encounter parts of the collage in an asynchronous sound and video installation running in an endless loop, as well as an analogue text curtain that seems to float in the middle of the room between chains and sculptures of firearms.
Strung together, an interplay between desire and violence becomes discernible between the individual quotations. Sexual acts, relationships, sexualised violence, misogyny, expressions of love, patriarchal behaviour patterns and imprints, (toxic) masculinity and retaliation are thematised.
A still life in the shop window is reminiscent of a baroque vanitas depiction, which at first glance seems kitschy. It reveals itself to be a cruel image saturated in violence and, as the artist's self-image, reveals, among other things, a homage to Medusa.